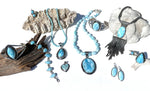 Larimar is the gem of the Caribbean Sea
Larimar, also known as the "Caribbean stone," is a rare blue gem found only in one region of the Dominican Republic. This beautiful blue gem is thought to align the heart, throat, third eye, and crown chakras while making you feel calm and at ease. The stone helps you understand your emotions and communicate with clarity because of its heart-based energy.  Larimar pendants, necklaces, rings, earrings, and bracelets are most beautiful when set in sterling silver.
Larimar was once thought to be from the Lost City of Atlantis. In 1916, records show that Father Miguel Domingo Fuertes Loren requested permission to mine the gem he had discovered. Unfortunately, his request was denied. Several decades later in 1974, Miguel Méndez rediscovered Larimar at the foot of the Bahoruco Mountain Range. He named the stone after his daughter Larissa and the Spanish word for sea (mar); thus, the creation of Larimar was born. Larimar receives its unique volcanic blue color from an acid silicate hydrate of calcium and sodium.
Larimar, as well as other blue stones and crystals, are beautiful additions to your jewelry wardrobe and your environment. Take a look at our Larimar selections on our website silvereaglegallery.com or at our retail stores on 5th Avenue South in Naples, FL and on Main St. in Highlands, NC. We think you will fall in love with this very special stone.