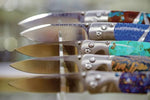 Santa Fe Stoneworks Knives For Father's Day!!
As far back as I can remember, my father always had a pocket knife handy.  Hanging art at the Minnesota State Fair, cutting a fishing line while we were out in the canoe, or just whittling down something that needed to be.. well...whittled. Dad had one, and it came in handy all the time on numerous occasions. It's a perfect gift for Father's Day! They are not only tools, but collector items.
Culturally pocket knives have deep meanings and have evolved into pieces of art, like the beautiful creations of Santa Fe Stoneworks. Today knives carry inlaid semi-precious stones, fossilized dinosaur bone, mammoth tooth or tusk and the blades themselves are masterpieces of high grade Damascus steel. They can range from the simple and practical to the elegant and even cutting edge designs. Pun intended. 
The first pocket knife dates back to the early Iron Age 500-600 BC, and folding blade knives even appeared in pre-Roman era Spain. It was the Vikings though that developed the blade that locked in place when open. The locked blade knife would become a mainstay through out history and the epitome of the perfect pocket knife. Practical, portable, and safer to use as the blade would remain open when cutting and closed when transporting. 
Jump ahead to 1971 and Bill Wirtel who opened Santa Fe Stoneworks in New Mexico. Hand made knives and cutlery from the highest grade steel options partnering with legendary blade names like Spyderco, Kershaw and using beautiful authentic genuine stones and fossils. To this day the company remains family run and led. A concept that Silver Eagle Gallery not only respects but also understands. We have a long lasting relationship with Santa Fe Stoneworks and are proud to offer their line of beautiful knives and more. 
Handmade, one of a kind craftsmanship in fossilized 150,000 year old Mammoth Tusk, Kingman Turquoise, Malachite, Red Coral, Fordite, Lapis Lazuli, Azurite, Dinosaur Bone, Onyx, and many more. Not only does Santa Fe Stoneworks expertly create one of a kind knives and cutlery but also money clips, waiter's knives, pen knives, and letter openers as well. 
This Father's Day give a gift as genuine and as unique as Dad, a Santa Fe Stoneworks knife from Silver Eagle gallery! 
All handmade and with a lifetime warranty!